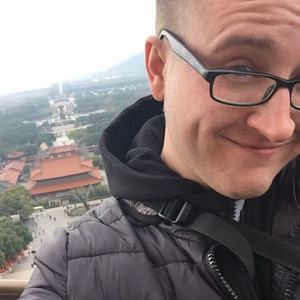 Michael Mays likes video games. He plays many of them, especially the Final Fantasy series. He is a debate coach in China, a major advocate of competitive speech and debate, and loves a good critical analysis of media.
His other media criticism can be found at michaelfmays.blogspot.com.
Michael Mays has been a guest on 7 episodes.
August 1st, 2021

We finish the Encephalon Dive and Disc 1 of Xenosaga Episode II.

July 18th, 2021

Michael joins us as we dive into Sakura Mizrahi's memories in Xenosaga Episode II

December 27th, 2020

In this episode we spend four hours in a single dungeon and thirty minutes debating about nihilism and it's representation via Cherenkov.

September 14th, 2020

T-T-T-Two Matts? It's double trouble as Japan repeats itself with reused bosses, returns to dungeons, and entering an identical volcano twice. And as a bonus - all sorts of technical difficulties!

December 5th, 2019

We take back Insomnia and save all of Eos in the endgame of Final Fantasy XV.

November 10th, 2019

The Bros brave snow and demons in the endgame of FFXV.

January 18th, 2019

Lightning goes out on the town in Yusnaan for Day 3 of Lightning Returns